Lowriders
»
E&G Classics
For over 40 years, E&G Classics now known as E&G Corporation has been the leader in automotive aftermarket restyling. With finely crafted accessories such as Custom Grilles and Ground Effect Kits, E&G has the products you desire. Our accessories are produced with unparalleled attention to detail and precision craftsmanship.
---
E&G Classics Categories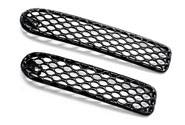 Original grille designs aggressively enhances the appearance of passenger motorcars as well as Sport Trucks and Suv's. With a dedication to offering you the most innovative automotive styling...
More Details »
---
E&G Classics
Products